After The Plague II is a fantasy RPG MUD game.
Homepage: http://atp.pedia.szote.u-szeged.hu/~atp/
Connection Details

[

]
The game is played with a telnet client. There are specific clients for playing MUD's that add convenience features.
Recommended client: https://www.mudlet.org/
Telnet:
Address: atp.pedia.szote.u-szeged.hu
Port: 3000

Areas

[

]
Elements City: The town new players start in. READ the pillar in the center square to see a map of the city.

World Map

[

]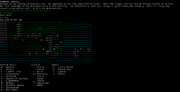 Travel Ports

[

]
Quajiningrad: has port to Amaurot.
Amaurot: has port to Quajiningrad.
Directions

[

]
From Elements City, Western End of Earth Street to Qajiningrad:
nw;nw;nw;w;w;w;w;nw;sw;w;w;n;w;w;
From Qajiningrad to End of Western Earth Street in Elements city:
e;e;s;e;e;ne;se;e;e;e;e;se;se;se
Quests

[

]
Finding and solving quests is part of the advancement process so the goal here isn't to give solutions but to help players find quests by providing hints.