Gaia Online is an English-language, anime-themed social networking and forums-based website. It was founded in 2003 as Go-Gaia.com,[1][2] but the name was changed to GaiaOnline.com in 2004 by its owner, Gaia Interactive. Gaia originally began as an anime linklist and eventually developed a small community,[2] but, following a statement by founder Derek Liu (username "Lanzer"), the website moved towards social gaming.[4] It eventually became the forum-based website it is now.[5][6] Today, over a million posts are made daily[5] and it is visited by 7 million unique users each month.[7] Gaia also won the 2007 Webware 100 award in the Community category.[8]
Users of the site, known as Gaians, create a customizable avatar and a customizable virtual home for which they can purchase items using what is called gold. This is given to users after playing games or posting inside the forums; the site also rewards users every day with random gold or items with the Daily Chance. In July 2007, Gaia released Gaia Cash that can be bought at Rite Aid, Wal-Mart, Target stores, 7-11, Speedway SuperAmerica, or directly from Gaia itself.[9]
Special events
Edit
Gaia holds various special events during the year, ranging from special updates to holidays (April Fools, 4th of July, Halloween, Easter, Christmas, Valentine's day, and the annual Gaia party event). During the events, users take part in an active storyline of local plots (on occasion, the users even get to vote upon the plot outcome) and in multi-user interactive games. These events also reward users with commemorative items during the event. Sometimes, rewards will even include a new Avatar "base" for users to use, such as the Grunny (zombie), Zurg (alien), Vampire, and Centaur skins. Events usually last around two weeks, though some last longer.
Forums are public message boards that users use for everything ranging from regular conversation to role play and even in-depth discussion. Users may make threads in any forum, per the forum guidelines.
Users can form guilds, which are clubs specially devoted to certain topics. These include hangout guilds, role playing guilds and guilds for various discussion topics. While some guilds require a payment to join, others are completely free. Guilds take an amount of gold to create (20,000 = 20k Gaia Gold) and many features can be added, such as additional forums. Guilds also are controlled by the guild "crew" who have the power to moderate any thread in the guild.
Members of Gaia Online receive an avatar when they sign up. Users have the ability to customize their avatar in many ways, including skin tone, eye style and color, hair style and color, gender and attire. Numerous items, accessories and items of clothing can be purchased, with Gaia Gold or Gaia Cash, and used on the avatar. Avatars appear next to posts in the forums and profile comments (the post itself encapsulated in a "speech bubble"), and in Towns and several other environments, the avatar appears as a movable character that can travel from place to place, interacting with the environment (catching bugs, shaking trees and rocks for gold, collecting trash and flowers etc.) and other users.
Monthly Collectibles
Edit
Monthly Collectibles (previously known as Donation Items) are special items that can be bought with real money meant to support Gaia's maintenance and costs. Established in June 2003 after users of Gaia Online petitioned for a "donation system" in an attempt to increase site revenue, for every US $2.50 a user gives to the site,[5] he or she receives an item known as a "Sealed Envelope" in his or her inventory.
Monthly Collectibles go on sale the first day of every month and are released on the 15th of each month. During August & September 2008 the envelopes were unsealed on the 8th, but on October 2nd 2008 it was decided that the release date should be returned to the fifteenth. The Sealed Envelope disappears from the user's inventory and is replaced by a "Thank You Letter" for the current paid month (for example, a "Thank You Letter for August 2004" represents a payment made in that month of that year). Users are then able to "open" these virtual letters to choose one of two or three limited-edition items to be granted into their inventory from each letter. These items were known as Donation Items until potential legal problems prompted the name change.[10] Monthly Collectible items and the "Thank You" Letter items they are found in are specific to the month that they were released in: for example, the items found in the "Thank You" Letter for April 2006 can only be found in that letter, and one could only purchase that letter in April 2006. Letters can be purchased over the phone, with a text message from a mobile phone, via PayPal, credit card, traditional mail or with the aforementioned Gaia Cash cards. Users can also purchase these Letters and specific Letter items from other users for Gaia Gold via the Marketplace (see below). Because of this, many users sell Thank You Letters each month to earn vast amounts of Gaia Gold. Gaia now also offers 'Gaia Cash', which is virtual money that may be bought using actual money. For example, one dollar is equivalent to 100 Gaia cash. Gaia offers Gaia Cash Cards, in ten and twenty-five dollar amounts. It includes a PIN that a user can enter at the redeem section of Gaia.
Gaia Online currently offers eleven Flash games: Fishing, Towns, Word Bump, Jigsaw, Slots, Cinemas, Cards, Rally, Pinball, and Electric Love Faktori. These games comprise of 10% to 15% of total site activity.[5] The newest game is Electric Love Faktori. Users can win different items or gold. In Gaia Fishing fish on the banks of various lakes and often catch anything from different species of fish to garbage. These can be exchanged for fish-shaped hats or accessories. Clothing may be made out of recycled garbage. These items can also be sold on the marketplace or back to the fishing store. The gold received is based on the rarity of the fish or item.
Gaia Towns (often simply called Towns) is a virtual world where avatars may move and interact with each other, collecting gold and small items along the way. homes can be found throughout Towns and more than one user can visit another's home. Homes can be designed by items obtained from the Furniture shop or the Marketplace. People's houses, trees, bugs, litter, and flowers mostly fill the towns. Users may use a virtual chat system while in the towns. The towns often host events such as snowball fights and trick-or-treating.
On June 18, 2007,[11] Gaia Online and Scion announced a partnership that allowed users to create virtual Scions, with customizable wheels, decals, fog lights, tail lights, and spoilers,[12] and race and display them to other users in a Adobe Flash game called Gaia Rally. Other cars that came with the game are the made up Possum, and Musculero. They are also customizable but have much fewer accessories than the Scion, most likely due to a marketing contract with Scion. The Scion tC, Scion xD, and UFO were later released, bringing the total to six possible cars to choose from. In this users are able to race their cars in a simple track. Clicking the mouse button gradually increases the speed. Numerous obstacles appear in the road for one to overcome, such as cows, UFOs, ramps, and zombies.
Gaia Cinemas was released in April 2007, and allows users to sit in a virtual theater, and watch anime, education shorts, cartoons, etc. with other users. Users have the ability to throw tomatoes, fireballs, popcorn, as well as other things during a cinema session. Programs shown in Gaia Cinemas are anime or cartoons shown with permission from Gaia Online's sponsors, films in the public domain, or films made by Gaia or by users. Gaia has old classic films as well as new anime in their theaters like Suzuka and Moon Phase. Recently, Gaia has created its own 3-D animated films, under the title of MMVII, that correlate with the Gaia storyline. Quest movies also take place in cinemas, when a user finishes watching a trailer for a movie they may receive a quest item. Gaia VJ is where users can make a virtual living room cinema with playlists composed of videos from video-hosting sites such as YouTube. In a recent announcement, Gaia announced a partnership with Sony and Time Warner, allowing Gaia to screen films from their libraries, either for free, a one time gold fee, or a Gaia Cash rental fee. New films are released in Gaia Cinemas every Monday.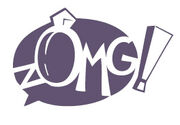 Main article: zOMG!
Gaia Online has announced it is developing an MMORPG where users will be able to battle monsters and participate in RPG style quests. The game will utilize special rings to activate abilities, such as throwing fireballs or conjuring up a defense. While a forum for the battle system has been established, the official release date has not been announced. A announcement had been made that the new MMORPG will be available to play sometime during 2008. Recently, David Georgeson, a.k.a. Qixter, Senior Director for Gaia's MMORPG, announced in his profile that the deadline for the release is the summer of 2008. However, he also points out that the last day of summer is September 22nd, so it might not be released until then. On May 14th, Gaia superiors announced the Beta Testing for the battle system. Applications to test it are closed as of June 2nd. The game is out of the closed beta stage and is currently undergoing open beta testing.
There are four main arenas on Gaia Online. Housing, Art, Avatar and Writing, with some of them having subcategories. Members can vote in the arenas and comment on art, avatars, houses or written works. Entering the Avatar Arena costs 1,000 Gaia gold and rewards up to 50,000 gold for winners. Entering the Art Arena is free, but no prizes are awarded. The Housing Arena costs 1,000 Gaia gold, but the Gaia staff is currently in the process of updating; in the mean time, there is no entry fee and no prizes are awarded.
For the Avatar Arena, prizes are as follows: 50,000 Gold-1st
30,000 Gold-2nd
20,000 Gold-3rd
10,000 Gold for 4th to 10th
There is a full-fledged Gaia Market. Market is divided into four parts - Shops, Trade, Marketplace, and Gaia Cash Shop.
Shops: There are various shops where NPCs sell different items for avatars, house, cars, etc. These shops are of all types, upmarket as well as economy. A player can buy items using Gaia Gold or Gaia Cash. Items found in the shops can also be sold back to the shop for 50% of the shop price.
Trade: Users can trade items and gold with other users.
Marketplace: Users can have up to 10 items for sale at once. The cost of this convenience is a 2% tax on all gold earned from sales, a feature implemented with the recent remake of the Marketplace.
Cash Shop: Also known as "La Victoire," it is the most recent addition to Gaia's economy and sells items for Gaia Cash (which itself is bought with real money). It includes high end items and special "evolving items" that change over time with the "evolving item reports". You can also purchase "Monthly Collectibles" from the Cash Shop. Items are always subject to be rotated in and out of the Gaia Cash Shop.
The Gaia Quest system grants users items for performing certain tasks, or quests. Most quests on the site are for promotional purposes, granting items related to the featured movie or anime series for watching trailers. Movies promoted by the Gaia Quest system include Gracie, Pirates of the Caribbean: At World's End, The Golden Compass, Nancy Drew, The Last Mimzy, The Spiderwick Chronicles, Kung Fu Panda, Bee Movie, You Don't Mess With The Zohan and The Sisterhood of the Traveling Pants 2. Anime series and TV shows have also been promoted, such as "Naruto", "Tsubasa: Reservoir Chronicle", and The Hills. There are a few for games such as "Dragon Quest Swords" and the "Naruto: Ultimate Ninja". There are also some quests for advertisement such as the new Chocolate Skittles.
References
Edit
External links
Edit